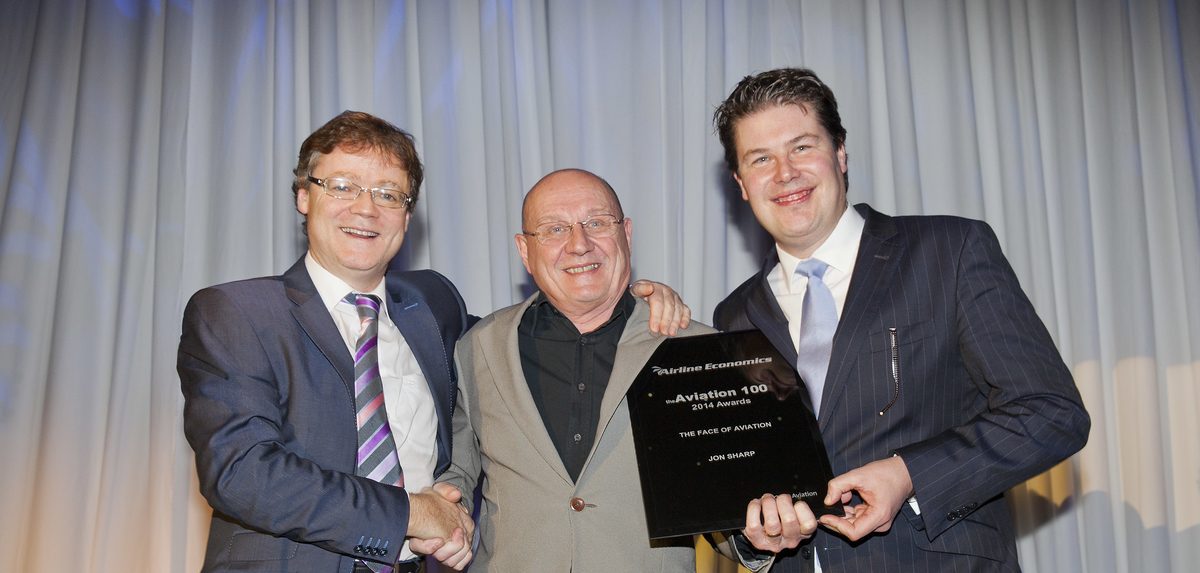 13 Min read
Airline Economics – The Face of Aviation 2014: Jon Sharp
The Face of Aviation 2014 is, by some margin, Jon Sharp, President and Chief Executive Officer of Engine Lease Finance Corporation (ELFC), the world's largest non-OEM aero-engine leasing company, which he founded in 1989.
Jon Sharp was born in England in 1947. His industrial and business career began with an undergraduate apprenticeship with Rolls-Royce plc, and in 1970 he gained a BA Honours and subsequently worked within Rolls-Royce's Aero, Industrial and Marine divisions in various senior positions in contracts, commercial, planning, sales and marketing departments.  Between the years 1975 to 1981 he spent considerable time overseas, including postings to countries where he was responsible for running local operations.
His final post with Rolls-Royce was at the Scottish Headquarters of the company's world-wide aircraft engine repair and overhaul business.  This constituted a group of seven aircraft engine repair shops located in Europe, North America and South America.  These factories employed 5,500 personnel in the repair and overhaul of some 5,000 engines annually for a variety of the world's airlines and armed forces.  Mr. Sharp was Head of Marketing and Commercial and was responsible for strategy for this business group where sales exceeded $400 million per annum.
Mr Sharp left Rolls-Royce to become Managing Director of Qualitair Aviation (now FLS Aerospace), the commercial airframe and component overhauler based at London Stansted airport. This company employed approximately 650 people in the maintenance and overhaul of all types of Boeing commercial aircraft as well as certain McDonnell Douglas, Airbus and British Aerospace airliner types, with an annual turnover of approximately $45 million. It was whilst at Qualitair that the opportunity to establish a new company to carry out engine operating leasing arose, and so ELFC was born. Since then he has also served as a non-executive director on the Boards of Directors of Aerothrust Corporation, the aircraft engine overhaul agency located in Miami USA, and of Aviation Industry Press
In September 2004, Mr. Sharp was presented by the Institute of Transport Management its Lifetime Achievement Award to "Honour his outstanding contribution to the air transport industry" and in February 2010 he was made a Fellow of the Royal Aeronautical Society and he is Chairman of the historic Coventry Rugby Club in the UK.
ELFC remains to this day the world's leading independent spare engine financing and leasing company, specialising in the provision of flexible short, medium and long-term spare engine support packages for the airline industry. Although headquartered in Shannon, Ireland, ELFC is owned by BTMU Capital of Boston, USA, which is a wholly-owned subsidiary of The Bank of Tokyo Mitsubishi UFJ, Ltd. This gives ELFC the financing power, extensive funding at favourable rates and stability to meet the commercial challenges presented by today's rapidly changing world markets. All this also allows ELFC to pass on the favourable rates of finance that it receives to its airline, MRO and OEM customers globally.
Jon Sharp has managed to stay at the helm of the company he created for over 25 years, a feat that few have been able to emulate, especially in the harsh engine market. Being able to navigate the ever changing aero engine market is something that makes Mr Sharp a significant point of reference for all those wishing to understand aero engine economics/dynamics. It can be said that one of the highlights of Mr Sharp's carrier came in 2010 when ELFC completed the acquisition of the Macquarie Aviation portfolio of leased engines, a transaction which completed in 2010. At the time the deal raised eyebrows at such a large transaction during a global recession without evidence of an upturn in the market but 2011, 12 and 13 saw more new entrants and joint ventures into the engine leasing and investment arena than in the entire previous decade. This made ELFC a first mover for growth, but moreover it was Mr Sharp that had previously warned quite openly that the likes of Macquarie Aviation were riding on a wave of seemingly irrational exuberance in the engine finance and investment space where it is very hard indeed to make a profit if the original engine purchase agreements and financing of the same are not priced correctly. ELFC was able to sit back and wait for portfolio purchase opportunities to come to it. Now in 2013/14 as institutions rush into the engine leasing and investment  space one must wonder if history will repeat itself a decade from now?
Marubeni entered into a joint venture with ST Aero for the CFM56. Mitsui launched a JV with Willis Lease Finance, originally announced to be for V2500-A5 and CF34 engines only, but since expanded into other types. Mitsubishi Corporation and Development Bank of Japan each acquired a stake in TES. Century Tokyo has acquired 20% of GA Telesis and Sumitomo Corporation has announced the formation of a JV with MTU combining MRO and Leasing. Meanwhile Mitsubishi Corporation has extended its JV with ELFC, as has MUFG Lease and Finance.
In the here and now the market is moving to combine engine MRO with in-house leasing: The Marubeni/ST Aero and Sumitomo/MTU ventures are mirrored by .Mubadala's SANAD and all are geared towards this, while on the flip side Aeroturbine, Mitsubishi Corp./DBJ/TES and Century Tokyo/GA Telesis are concentrating on end of life solutions geared towards the leasing sector.
All this leaves the likes of ELFC and Willis Lease caught between these new emerging independent pressures and the mighty OEMs in the form of GE Engine Leasing and Rolls-Royce Partners Finance. PW Engine Leasing and Shannon Engine Support, which provide combined maintenance and lease packages including of course from time of purchase agreements, are the fastest expanding segment of this market.
But both ELFC and Willis Lease remain able to straddle all market segments safe in the knowledge that there is at least 50% of the market up for grabs which equates to the majority slice of a $1bn market. Key for both ELFC and Willis Lease is cost of finance and this is where all comers still have to match what ELFC has in place, although Willis Lease is catching-up through its WEST II securitization and most likely WEST III in the near future.  
Over and above the cost of finance, when looking down on the developing engine leasing and investment market in 2014, a clear landscape of competitors can be seen offering a wider range of products where airlines can pick and match from a variety of options to suit their requirements. And in all of this expansion and the various offerings, save for those from the OEMs at point of purchase, they are all offerings that ELFC has been and continues to make available to its clients for decades.
"Residual value risk" are the three key words in the engine business for the next decade. Previously engine residual values were a steady bet but now with a host of new engine/aircraft types on order and in production the depreciation conventions of existing but older engines still in production are being challenged and if we consider also the increasing OEM aftermarket control and the huge part-out upswing in the MRO and parts distributor arenas we can argue that commercial aero engine residual values are under pressure like never before and that in turn makes one wonder if the engine leasing and investment arena will suffer from over capacity, very quickly catching out those who have paid too much for engines or have not had access to cheap finance.
Jon Sharp, you can bet, along with the ELFC team, will remain at the fore, looking at options that will ensure a return and letting others around them get bloodied through a rush to build portfolio, which will in the end leave ELFC in a position to purchase yet another portfolio at low prices if it so chooses.
When one considers the complexities of the engine leasing and investment market and the difficulty of managing the life of an engine in profit it is without doubt that Jon Sharp, if he wishes it or not, will continue to be much sought after in the years to come, guaranteeing that this is one industry leader and friend to many that will never fade away into the shadows entirely.